"DEKKEN": IS A DUTCH WORD MEANING TO SHIELD, PROTECT,  COVER, AND HEDGE. WE PICKED THIS FOR THE NAME OF OUR PROGRAM AS WE FEEL IT CORRECTLY SYMBOLIZES TRAITS OF THIS AMAZING BREED – BOERBOELS PROTECT THEIR FAMILIES IN A BOLD YET LOVING WAY.
The Lloyd family, Todd and Taryn (as well as their 3 daughters), live in York, PA. Todd works in philanthropy and Taryn is a nurse. They have been married and breeding Boerboels for 13 years.
 The Afrikaans name, Boerboel, literally translates as farm dog or farming dog. They are a working dog that loves to carry out tasks. They have a natural herding and guarding instinct, bond with their surroundings and owners and while often passive maintain an alertness to their surroundings.
Origins
Good friends of ours in Philadelphia had bred Cane Corsos, Pressa Canarios, and Fila Brasileros before they migrated to Boerboels – "Billabong Boerboels". We apprenticed with them, and they later passed along their program to our family, including their original bloodlines they imported from South Africa. It was easy to fall in love with the Breed and have since enjoyed working to improve it.
"Microbreedery"
We coined this silly term to simply emphasize our breeding craft is intentionally small-scale. This isn't a business or full-time gig we rely upon. We are first and foremost enthusiasts – and to maintain that enthusiasm for the breed, our dogs and the satisfaction of families we have chosen to breed on a small scale and in partnership with friends.
 Our approach, grounded in highly selective breeding practices, results in fewer available puppies. Typically individuals and families who partner with us provide deposits in advance of the litter being born. Sometimes families wait a number of months with great anticipation for their puppy to join their family. We strive to make that investment of time well worth the wait. We do understand that this timetable doesn't work for everyone, particularly when there are very specific traits that a family is looking for, such as coat color, etc. So we do our very best to provide good recommendations for other reputable breeders when requested.
There are breeders who are breeding on a much larger scale than we are, and they are more likely to have puppies immediately available. We will encourage you to consider the benefits/ value of supporting reputable breeders who are not just breeding dogs… but cultivating and contributing to the breed. If you're not sure how to distinguish between the two don't hesitate to ask us and we would be glad to help provide some advice on what sets different breeders apart.
Philosophy
Equally important to advancing the breed is our interactions with you, and the potential for one or more of these majestic creatures to contribute to your family.  We strive to ensure every individual or family is fully satisfied with their puppy from initial contact, through point of purchase and beyond. We measure the success of our program by the level of owner satisfaction; strength of companionship between owners and their dogs; and, the overall health, confirmation and temperament of our dogs.
Partnership
 Our philosophy is tied to our partnership with individuals and families who purchase puppies from us. We strive to breed exceptional representations of what a Boerboel should be – show and breed quality dogs. While most of our families are not interested showing or breeding we believe there is tremendous value in partnering with breeders who are committed to breeding dogs from top bloodlines that advance the health, sound temperament and beauty of this majestic breed. This philosophy is simply what is best for our dogs, the advancement of the breed, our integrity and reputation, and what is in the best interests of those who partner with us.
Owning any dog is a big investment. How you choose to invest, including the breeders you invest in, can either help advance the breed or detract from it. We hope you choose to partner with us or some other reputable breeder – any difference in purchase price isn't significant considering the potential trade-offs.
If you want to get a sense of some of the families we've partnered with over the years you can feel free to check out the Dekken Boerboels Puppy Owners FB group.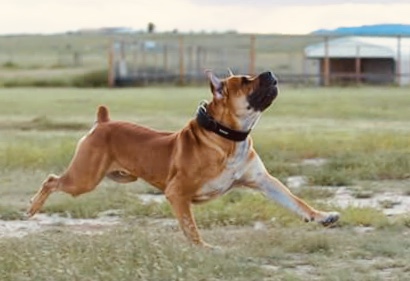 We moved in 2018 from Harrisburg to a small farmette in York, PA. We also have some of our breeding dogs placed with nearby friends to ensure all of them are part of families.